During the Spring Term, pupils in UKS2 explored the driving question:
'What does it mean to give your heart to someone?'
We explored both the literal and figurative meaning of this question using our Vincentian Value, 'we do not judge others' as our starting point. The project began with a high-energy bootcamp where the children were taught to record their pulse and measure how it changed after different activities. This led on to a body of work on the circulatory system. We explored the function of the organs within the system and how it worked. On the playground, the children worked in groups to draw out the system in chalk and 'pump' themselves round it as if they were blood!
Next was our exciting dissection workshop. It was fascinating to see a real life ox heart close up. We were all surprised at how big it was, but its size enabled us to clearly see the different parts of the heart – and then we had a go at dissecting a much smaller lamb's heart.
As part of our work on the circulatory system, we also learned about how to keep our hearts and body healthy and the possible consequences if we do not. This led onto our work on Pig Heart Boy, by Malorie Blackman where the main character, Cameron, needed a heart transplant. This engaging text encouraged lots of emotive drama and writing in the form of diaries and playscripts.
We discussed the idea of the 'donor register' and the new 'opt out' policy and then began talking about what happened in the past – before organs could be transplanted. We explored life expectancy and life span over time and compared these statistics over time. The children really enjoyed researching different advancements in medical science and prepared presentations for their peers to share findings.
The next stage of our project involved us looking at maps of London and considering efficient ways of transporting donor organs around the city. The children were tasked with creating a bridge over parts of the city in order to create a more direct route between hospitals. After learning about different bridge types, we designed our own choice of bridge using computer aided design (CAD) programme and then used lolly sticks to make a model which had to be strong enough to hold a weight! Some were more successful than others!
During the project, we also explored the figurative meaning of 'giving your heart to someone' through poetry and song. Giving your heart to someone means to have a deep love for someone, want what is best for them and put all of your effort into making them happy. After exploring some famous love poems, we wrote our own love poems for a person of our choice and performed them to music.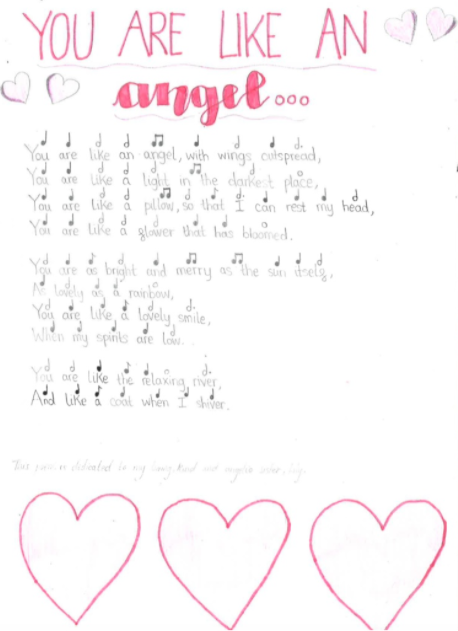 In the last week of term, we revisited our driving question, journeyed back through our learning and produced either a piece of writing or mind map to wrap up the project. This was a thoroughly enjoying (and very busy!) term.